Features added in this release
Matrix editing and sample
A sample of the matrix that will be created is displayed on the right side of the options.  The sample matrix is displayed in grey representing the row and column numbers.
When the caret is placed within a matrix, the matrix can be edited: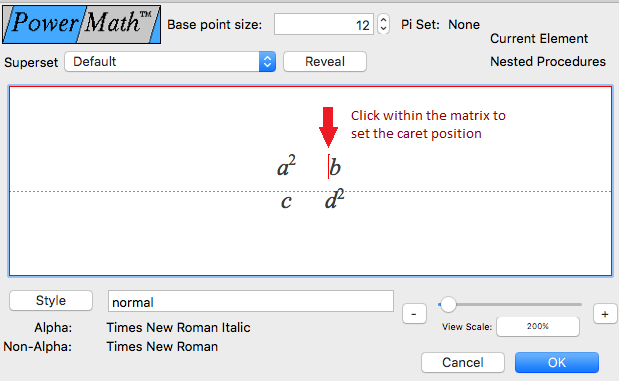 Open the matrix window: PowerMathApp -> Supersets -> Procedure Options -> Matrix…
The equation's matrix will be displayed in the sample window and any changes made to the options will be immediately available for review in the sample window.
Any rows or columns added to the matrix will be added to the bottom or right.
Changing the input order of the matrix will not rearrange the existing cells.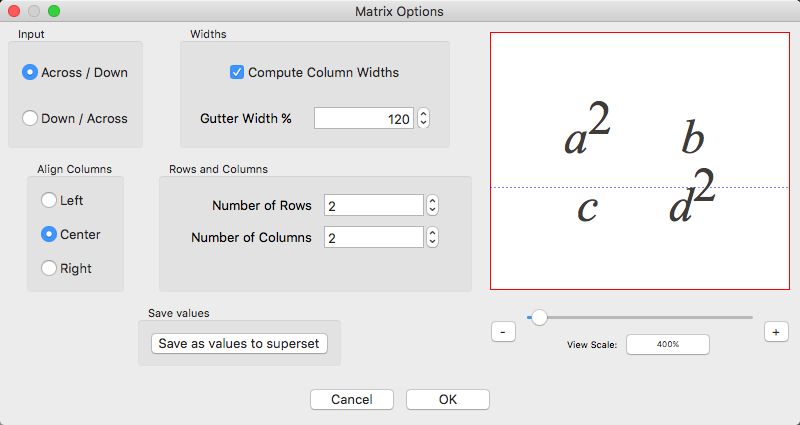 Matrix option "Compute column widths" has changed when the option is disabled.  In the past, it would only calculate the width required for the first column, duplicating that width for each column.  The feature has been enhanced to set the gutter width based on the thinnest column width multiplied by the column width percentage specified minus the column width of the thinnest column.
For example, if the thinnest column measures to 50 points and the column width is specified at 150%, the gutter width will be 25 points between each column.
Defects corrected in this release:
Disabling Autoleading resulted in the the feature continuing to provide autoleading functionality
In the example below, Autoleading is disabled and is not providing any lead.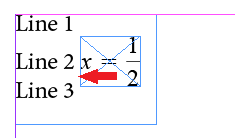 The Autoleading feature can be found on the Superset preferences window from the menus: PowerMathApp -> Supersets -> Edit Preferences…
Positioning the caret in the math editor is now easier using mouse clicks
The caret will be placed on the equation element nearest to the click location. In the past, an exact mouse click position was required.